I am lucky enough to stay home with our boys. I am also lucky enough that I get to volunteer at Jacob's school. The class is wonderful. I believe it is because of Mrs. Green. She is in her 30th year of teaching and she was simply born to teach. So, I decided that it would be nice to thank you for having parent volunteers.
Mrs. Green and Jacob, our oldest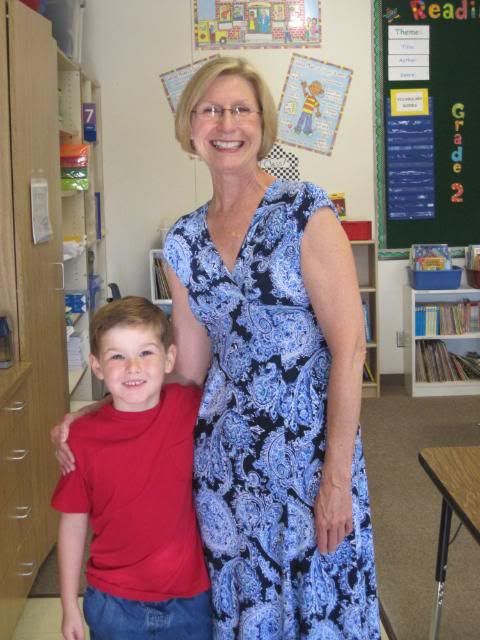 The card was made from a DCWV stack and I used PTI Button Bits stamp set. It is a 5.5 by 5.5 inch card.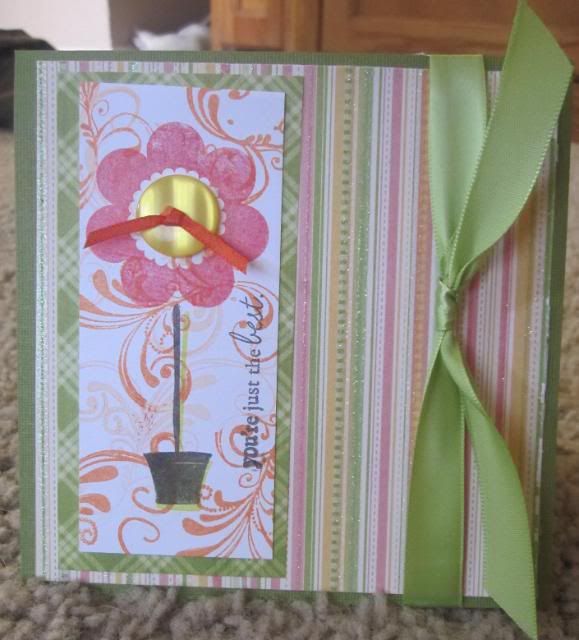 The next project that I have neglected, unfortunately because of things that always seem to happen when I need to do something important and have promised to do it. A follower of my fan page on FB won a $25.00 gift certificate from Michael's at the beginning of the month but then, like one has to do with the other, we discovered that we had a bunch of Mickeys (mice) running in our home. Holy Snickies! I have been pretty much trying to deal with exterminators and running around with a soup latel in one hand and a bottle of anti-anxiety pills in the other. I am terrified of mice. Sorry, I digress....
I made the gift card holder idea is was made from, "Card making with the Cricut". Surprisingly, I didn't know all the Cricut cartridges have as much as they do. I cut the WIMG cartridge. I then punch out a slit for the card with the Stampin' UP! word window punch in the middle.
Until the next project.....