Welcome, one and all, to my new craft blog! I am super excited that I have finally started this. I want to be able to share my work. I hope you all take a seat, buckle the seatbelt and ride along this creative journey with me. I will post some of my past crafts very, very soon.
I want to share my latest project though. I didn't want to blog an entry and then not at least put something that is crafty in the entry.
This project was a birthday card that I made for my friend's husband. He is a die-hard, no-nonsense, crazy San Jose Sharks fan! Mad crazy!
Here is the SJ Sharks logo: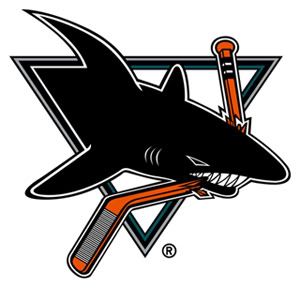 So, as I was looking at the logo, I was thinking....not very birthday like. The chomping on the hockey stick was a little harsh, even for me, mother to two boys that know no fear! So, I decided to use my Cricut
(a.k.a. my partner in crime)
Here is the result!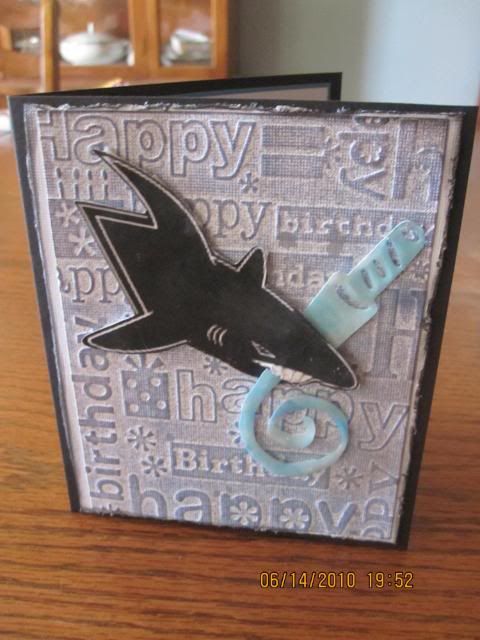 The blower in his mouth made him less vicious in a way, don't 'cha think?
*standard A2 size card
*Happy Birthday cuttlebug folder
*ColorBox Ink (Cyan) applied with brayer on embossed image
*Tattered Angels Glimmer Mist in Graphite
*Cricut Cartridge (celebrations) for the blower cut out
*UTEE and Versamark to make the blower sturdier and have a glossy effect
*Stampin' Up distress edger
*3M foam tape to pop up my image and the embossed folder
Thanks for looking!
And remember what Mama used to say, "Don't be a leader, be a follower!"
The faster I get to the first 25 followers, I am licking the stamp, not the box, because, let's face it...that's gross, and sending out some blog candy!